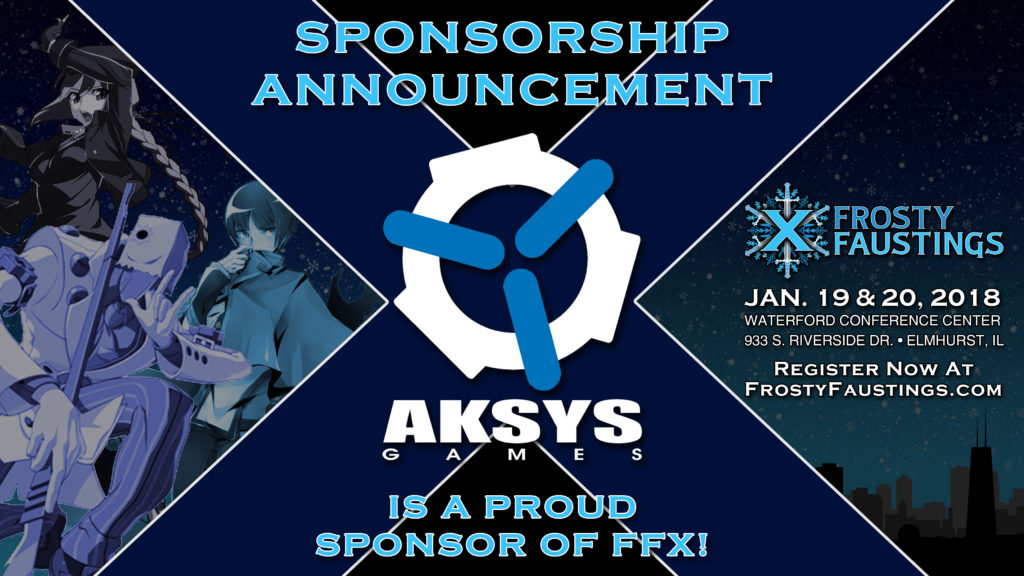 We here at Frosty Faustings are very excited to announce sponsor support from Aksys Games! Aksys has been a long time sponsor of past Frosty Faustings events and is continuing to help support our event again in 2018!
Being the publisher of many incredible games, including Guilty Gear Xrd Rev 2, BlazBlue Central Fiction and Under Night In-Birth EXE Late[ST], the anime fighting game community owes a lot of thanks to them for providing so much support for these games and helping to grow our scene throughout the years!
For more information on Aksys Games, check out their website http://www.aksysgames.com/
Aksys publishes several games across most major console and handheld platforms and has done localization work on a variety of genres including fighting games, shooters, RPGs and more! Check out their full products list here http://www.aksysgames.com/products/
Make sure to give their official Twitter accounts a follow: @aksysgames and @AllAksys . There are often free giveaways and exciting announcements so don't miss out!
Finally, don't forget to check out Aksys Game's official major tournament, Anime Ascension, which will take place March 31st – April 1st at the UC Irvine Pacific Ballroom! Expect more exciting Anime Ascension announcements from Aksys Games soon! For now you can check out their website http://aksysgames.com/animeascension/
We thank Aksys Games for their continued support of Frosty Faustings and look forward to another great year of frosty fighting game action!