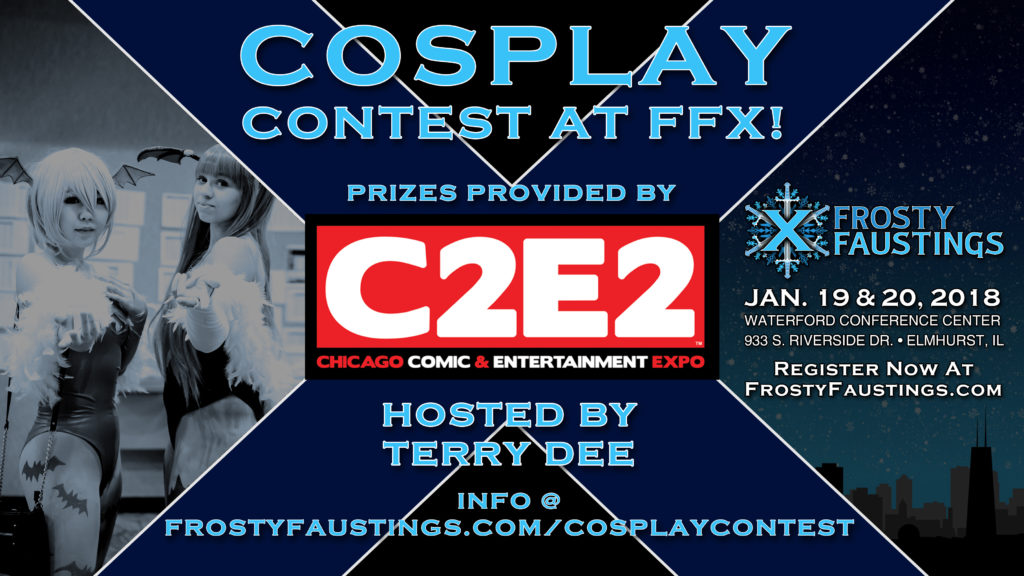 Frosty Faustings is Midwest's hottest gaming event of the winter! Terry Dee of The Age of the Geeks is hosting their first ever Cosplay Contest! With the fantastic support and prizing from C2E2, Frosty Faustings X is the year of Cosplay!
Here are the following categories to compete in.  Will your costume win in one of these 5 gaming infused categories?
Best Guilty Gear Character
Best Fighting Game Character
Best Video Game Character
Best Anime Character
Best Comic or Entertainment Character
Here's what's at stake!
Each Category Winner receives 2x Weekend Tickets to C2E2
Each Category Winner will receive an Official FFX Medal
Once the 5 category winners have been chosen, one will be selected as the FFX Cosplay Grand Champion
Grand Champion will receive $50 cash and an Official FFX Trophy
Runner-up in each category will join the winner for a stage walk-through for all to see
Runner-up in each category will receive door prizes provided by Terry Dee & Splendid Treasures
The Judges Scorecards:
Showmanship 1 – 5pts. : The ability to be in character on stage.
Craftsmanship 1 – 5pts: How polished the cosplay appears.
Storytelling 1- 5pts: Description of the creative process of making your costume, your character's origin, and please include an estimate of work hours.
Timeline (All events happen on Saturday 1/20):
8:00am – Doors open / badge pickup begins
10:00am – Cosplay Contest registration begins
4:00pm – Registration ends at 4pm
4:00pm – 5:00pm – Everyone gathers down the artist alley for official FFX Judging
5:00pm – Winners are announced
7:00pm – Top 10 finalists will be presented on stage!
Prices (Choose from our 2 Badge Types):
Weekend Casual Badge: $15 Online or $20 at the Door (A weekend badge that allows you to play video games, compete in Cosplay Contest, and compete in The Gaming Goat's CCG Room featuring Pokemon, Magic the Gathering, and Final Fantasy)
Weekend Competitor Badge: $45 Online or $50 at the Door (A weekend badge that also allows you to compete in the official FFX video game tournaments, all rented equipment)
Big thanks again to our presiding Cosplay Sponsor C2E2. Without their support, this event would not be possible. Please join us at C2E2 which takes place April 6 – 8, 2018 at McCormick Place in Chicago.  C2E2 is a comic book and pop culture convention spanning the latest and greatest from the world of comics, movies, television, toys, anime, manga and video games. From a Show Floor packed with hundreds of Exhibitors and Artist Alley members, to Panels, Autograph Sessions and screening rooms featuring sneak peeks at upcoming films and television shows, C2E2 gives Fans a chance to interact with their favorite Creators and Celebrities and delivers a weekend of pop culture and fandom in downtown Chicago. You can purchase tickets here or you can win them in the FFX Cosplay Contest!