Frosty Faustings X is a 2 day event spanning all day Friday and Saturday. We adopted this format to allow people to have a relaxing Sunday where they can comfortably travel home without taking time off of work or classes on Monday and plan flexible travel. For those players who will be sticking around on Sunday after FF is over, we have organized our official after party, Frosty Faustings: Freesia, or FFF, with a full day of games, great local food and more!
Location: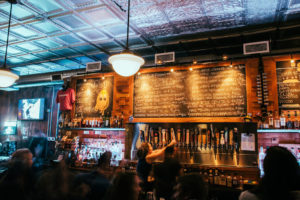 Emporium Bar and Arcade
1366 N Milwaukee Ave.
Chicago, Illinois 60622
http://www.emporiumchicago.com/locations/#fndtn-wicker
(free parking on street)
(Check out website for full 360 degree interactive map of inside of venue!)
(Age 21 and over only)
Party Time: Sunday, January 21st, from 1:00 PM until 9:00 PM (Stream and console setups end at 9:00 PM, bar is open until midnight for drinks and arcade games)
Emporium is a bar arcade featuring 28 beers on tap, 47 arcade game cabinets, 11 pinball machines, and a stage with large projector for stream setup matches. The bar does not serve food but allows you to bring your own food or have food delivered right to the bar!
Food Option Selects
Kuma's Corner and Kuma's Too: Kuma's is hands down the best burger restaurant. PERIOD. Not only do the burgers use extremely unique combinations of ingredients on a pretzel bun, every burger is named after a rock or metal band! Kuma's is the Guilty Gear of burgers.  Both locations are roughly a 10 minute drive from the bar, or you can order from either location on Doordash.com and have it delivered right to the venue!
Harold's Chicken Shack
Good chicken joint right across the street from Emporium!
Lou Malnatti's
Order a famous Chicago Deep Dish Pizza from one of the best spots in town!
Sushi Burrito
It's exactly what it sounds like. Why not give it a try!?
There are TONS more options that deliver to Emporium, and Chicago has loads of great, unique food to offer! Check out the full list on Grubhub.com here or Doordash.com here! (enter address 1366 N Milwaukee Ave. Chicago, Illinois 60622 to search)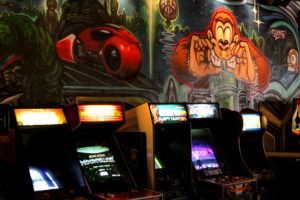 Live Stream: This event will be streamed live on twitch.tv/Kfair_IPG by Will English. There will be a full stage setup and large 20 foot projector screen.
(Stream times and scheduled programming TBA)
Raffle Prizes: There will be some prizes from our sponsors to be won during the raffle! The first 100 attendees will receive a raffle ticket upon entering, Raffle will take place after the Red vs Blue Xrd tournament listed below.
Entry Fee: Door charge is ONLY $5 for all day unlimited event console play with exit and re-entry privileges using your wrist band.
After Party Content
Casuals free play: Frosty Faustings: Freesia is a great opportunity to get sets in with players from other regions that you may not have time to during Frosty Faustings. Take this opportunity to learn tough matchups, become more familiar with the play styles of top players, or just have fun hitting buttons! We will have many setups for several different fighting games, all are welcome!
Guilty Gear Xrd Revelator Red vs Blue Team Tournament: Open to all party attendees and free to enter! Tentative Start Time: 3:00 PM CST
Do you remember our epic battle between Team Pineapple on Pizza vs Team No Pineapple?! We will be running another event in that style! SUBJECT TBD! Do you feel strongly about some topic? Do you want the best Guilty Gear players in the U.S. to team up and fight about it!? Send your suggestions to f.faustings@gmail.com or tweet us at @frostyfaustings

Exhibition matches: There will be exhibition matches scheduled for the event. These are still being planned and will be updated and announced with information on which games and players will be playing exhibition sets.
Other events: Other events are also being planned and will be announced once confirmed.
Travel
Getting to Emporium from the FF venue: The distance is about 21.5 miles. If you don't have a car, we suggest finding other FF attendees who are planning to go from the hotel and splitting an Uber or cab for a low cost trip. You can also try catching a ride with some local players who have space in their car. If you plan ahead, getting to Emporium should be inexpensive and fairly easy.
Getting to O'Hare Airport from Emporium: Walk 5 minutes to the Division CTA Blue Line train station and take it directly O'Hare. Train takes about 33 minutes. By car/taxi it's about 30 minutes average to O'hare.
While Sunday traffic usually isn't too bad, please allow yourself enough time to catch your flight as Chicago traffic can be (un)predictabo!
For any additional questions or concerns regarding this event, please contact us at f.faustings@gmail.com or on twitter @frostyfaustings
#GetFrosty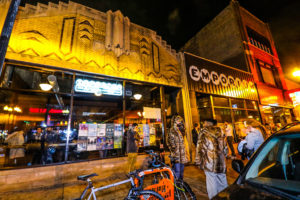 "Wearing a fine suit, paying by a credit card, but I cannot prove myself…"