FROSTY FAUSTINGS IS BRINGING THE COSPLAY!
ENTER TO WIN ONE OF OUR SIX CATEGORIES:
1. Best Arc System Works Character
2. Best Fighting Game Character
3. Best Video Game Character
4. Best Anime Character
5. Best Pop Culture Character
6. Cosplay Judges Choice Award
WHAT'S AT STAKE:
– $200 Cash Prize & official FFXV 2023 Trophy to the Grand Champion
– Each category winner receives an official FFXV 2023 Cosplay Contest Medal
– Each category winner receives 1 Custom Bracelet from Splendid Treasures
– Each category winner receives a $20 Meal Voucher to the Westin Lombard
– Each Finalist will get the chance to embody their character live on stage and stream for the fans!
THE JUDGES' SCORECARD:
Costume Craftsmanship: Contestants will show off their craftsmanship. Costumes will be assessed on construction quality, cleanliness of seams, and attention to detail. Contestants are encouraged to show off all handmade elements of their costume. Commissioned or purchased costumes can enter for stage presentation, but are not eligible for prizes.
Overall Showmanship: Show us your spirit! This score is based on how well you embody the persona of the character through body language, posing, and speech.
Creative Process: Tell us how you made your costume. Describe what mediums, tools, or techniques you used on your project. Let us know your character's back story and why you chose this outfit! This is where you can let the judges know why this character is your favorite.
SCHEDULE
On-Site Registration from 2pm – 10pm on Friday, Febuary 3rd.
On-Site Registration from 11am – 12:30pm on Saturday, February 4th.
Judging takes place on Saturday, February 4th between 1pm – 3pm at a predetermined allotted time. Please check in at the Costumers With A Cause Booth in the Artist Alley to receive your judging appointment.
Cosplay Contest Stage Show and Awards Ceremony will take place at 4pm on the FFXV Grand Stage.
Cosplay Contest Awards Will be streamed on: twitch.tv/UnrivaledTournaments
FFXV Weekend Spectator Badge: $70 @ Door (required for entry into the Cosplay Contest) or
FFXV Weekend Tournament Competitor Badge: $110 Online until January 22nd
https://www.start.gg/tournament/frosty-faustings-xv-2023/details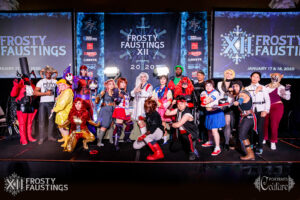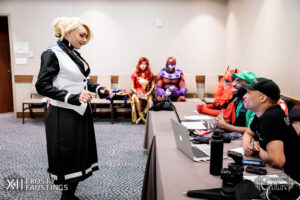 Frosty Faustings XV 2023 COSPLAY CONTEST
ARE YOU READY TO SHOW US YOUR MOVES?
Thank you for your interest in participating in the Frosty Faustings XV 2023 Cosplay Contest! To help familiarize you with our criteria and judging process, here are our rules.
Frosty Faustings XV Cosplay Rules & Information:
1. Individual cosplay entries only are permitted. No group or couple entries will be eligible. Exceptions will be made for children under the age of 10 accompanied by an adult in costume.
2. Costume must be at LEAST 25% made by the wearer to qualify for entry. Tell us how you crafted your outfit! Premade suits and commissioned costumes may enter for fun, but will not qualify for prizes. Discretion on what qualifies lies with the Frosty Faustings judges.
3. Presentations must not contain any profanity, extreme violence, or sexually explicit acts. All skits must remain PG-13. The Director reserves the right to remove contestants who violate these limits.
4. All contestants under the age of 16 must be accompanied by an adult at all times; if not, they will be disqualified from the contest.
5. No flash pots or explosive devices. No petals, confetti, silly string, or any devices that will require clean up afterwards.
6. If you plan to carry a weapon, you must conform to the following: No live blade knives, swords, handguns of any kind and no loaded weapons whatsoever. No airsoft rifles or realistic firearms (this is for everyone's safety!). No whips may be used onstage. You must demonstrate that you can carry the weapon without injury to yourself or others. Transportation of weapons to and from the Masquerade must follow the convention's weapon policy. Props must be inspected and peace bonded by security staff.
7. Props and costumes must be carried on and off the stage by the contestant. If your props require more people to move them, you will have to provide the manpower. When you register for the contest, you must tell us you need helpers. If a contestant cannot get on the stage due to size or weight of the costume, even with assistance, then they will be disqualified.
8. A staff photographer will be documenting the Cosplay Contest for Frosty Faustings XV. By entering this contest, you agree that your likeness and image may be documented in photo and video by Frosty Faustings XV staff and used in future Frosty Faustings XV website, social media outlets, and other promotion materials
9. All entrants must have their Frosty Faustings XV badge present and on their person to participate in the cosplay contest.
Every costume is specially crafted not only by foam, resin, or thread, but love and heart!
February 4th is Your day to take the stage by storm, and we hope to see you there!
CAST OF CHARACTERS:
Host + Master of Ceremonies : Vitamin D
FB: @Vitamin D Cosplay IG: @VitaminDCosplay
Small Bio: Vitamin D's passion for cosplay and gym stems from comics, video games, and merriment of young and old that he delivers at cons when in character. He has modeled for two Magic the Gathering Cards: "Tither Taker", and "The Fabled Hero". When he's not lifting and cosplaying, he is catching Pokemon, or playing Ring Fit.
Follow him and his Cosplay Crew: https://www.facebook.com/TheAgeoftheGeeks/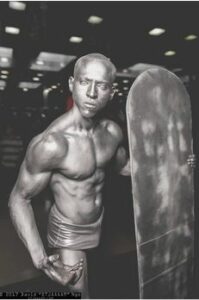 Judge: Neal Haze
Neal Haze is an award winning cosplayer, prop maker, and performer. He has been featured on Over 30 Cosplay, Extraordinary Men of Cosplay, Cosplayer Nation, Marvel Elite Cosplay, Best Marvel Cosplays, Best DC Cosplays, Sharing Cosplay, Cosplayers Share, as well as assorted magazine and newspaper articles. He and his family were featured on the Syfy Channel's "Heroes of Cosplay". Neal attended his first comic con in 2008 and has been hooked on Cosplay ever since. If you would like to see more of his work, you can check him out on Instagram at @denverhaze2018.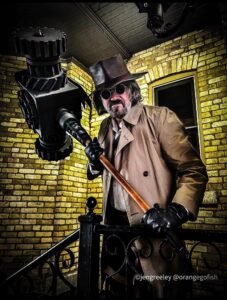 Judge: Jen
Jen , known as @orangegofish, is an actor, published photographer/cosplayer, writer and volunteer who works to ensure photographic representation for everyone across all genres of cosplay.
Not only does she volunteer with charities and organizations, she also writes articles, creates videos and photographs cosplayers across the country.
One of her life goals is to ensure a diverse photographic representation of all cosplayers within the Cosplay community and full acceptance of all ages, body types and ethnicities in costuming and cosplay. She enjoys cosplaying with friends and loves her adorable fur baby, Tchalla.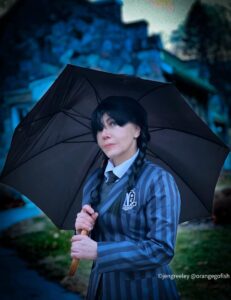 You can apply here to join the cosplay contest!
https://docs.google.com/forms/d/e/1FAIpQLSfoF1OW06jjVw8EAgjzF3-zcajo-VhL1Bvzglm2pgQmAtef6Q/viewform